Posted by Super Mom No Cape on January 25th, 2015
If you've arrived here from the Grow Your Blog 2015 Event… Welcome!
My name is Susan Flemming. At least that's how I introduce myself when I first meet people. But all my family and friends call me Sue and I hope that you will too.
I've had a presence on the net in one form or another since way back in 2000 when I created my first website for my writing. When blogging came along, I added one to my website. (That site was recently moved to a new host and completely redesigned by our son who is a professional web designer and developer. You'll find the link to it in the right hand side bar.)
In 2008, my children encouraged me to start a homemaking blog separate from my writing blog to share the knowledge I've acquired over the years.
Of course, that blog needed a name. Me being dubbed Super Mom started out as a family in-joke shortly after the movie The Incredibles was released in 2004. I had sorted out some problem one of our children was having and said child remarked, "Super Mom to the rescue!" To which I replied, "No Capes!" If you've watched the movie, you'll recognize the reference right away. If not, you can watch a clip of it here.
So when it came to naming this blog "Super Mom – No Cape!" seemed the perfect choice. I can't tell you the number of e-mails I've received from people telling me how much they love the name.
The things I share here are all the direct result of whatever is happening in my life at the moment. You'll find a bit of everything from sewing to quilting to embroidery to knitting and crocheting. There are recipes and household tips as well.
The posts that seem to receive the most visits are my tutorials, the most recent of which was my Thimble Pip Tutorial.
Every Monday, for Vintage Embroidery Monday, I post a vintage Workbasket embroidery pattern. The first set of patterns I found in the seat of the Art Deco sewing machine cabinet my husband, Dave refinished for me. Since then I've come across more patterns in antique shops as well as online.
I have a lot planned for the blog over the coming months and I'd love for you to follow along. You can do that by subscribing through the box in the upper right hand sidebar.
(Edited to add:  When you subscribe, you'll receive an e-mail asking you to confirm your subscription.  I have this feature to guarantee the safety of my subscriber list.  So please take a moment to click on the confirm subscription link to ensure you'll receive future post updates.)
Or if you prefer, you can follow me on Bloglovin by clicking on the "b" in the upper left hand sidebar.
I've also just joined Twitter and am in the process of learning how to use it. My twitter name is 1SuperMomNoCape, if you'd like to follow me there.
I'm so glad you stopped by.  Before you head off to visit all the other blogs who are taking part in Grow Your Blog 2015, I hope you will take a moment to leave a comment to be entered to win this sweet little zip pouch with matching Thimble Pip, scissors and Oasis Candy Bar by 3 Sisters for Moda.
There will be a matching scissor keep and pin cushion included as well.   I ran out of time today and didn't get them completed to include in the photo.
The giveaway is open to anyone, anywhere and will run from now until 11:59 pm (EST) on February 14th. I will announce the winner on February 15th. Only comments on this post will be included in the drawing.  Good luck everyone!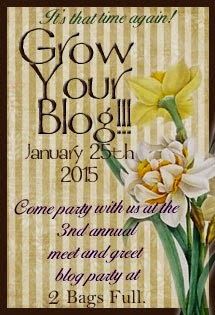 Tags: Grow Your Blog 2015
Posted in Giveaways | 12 Comments »